A Close Look at Price vs Risk
When it comes to buying used semi equipment, getting the best value involves more than just matching a price point. A number of factors determine the true value of the deal, from reliability of the product, to services and warranties included with the purchase. Bill Konnen's presentation from Semicon captures the tradeoff between cost and risk when making used semiconductor equipment purchases. The chart below, adapted from his presentation illustrates this vividly.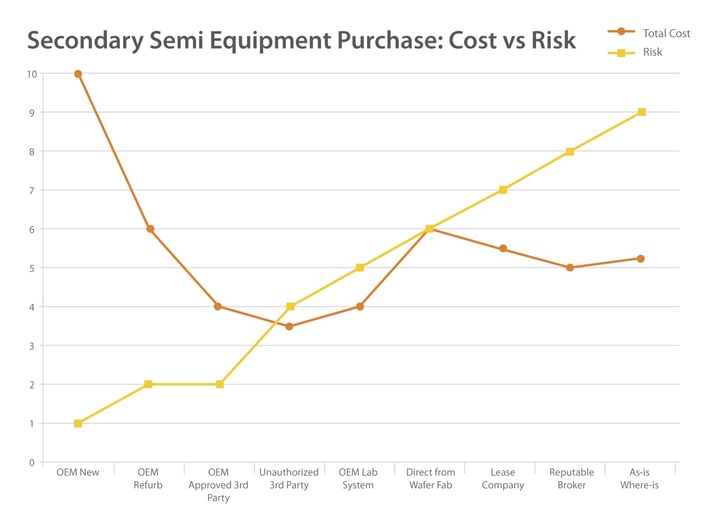 Analyzing the chart provides a good decision-making framework for used semiconductor equipment buyers. Purchasing from the OEM Refurb is roughly the same cost as purchasing directly from a semiconductor fab, but the difference in the degree of risk associated with each of those options is dramatic.
Purchasing the OEM Refurb tool can pose far less risk for several reasons, including:
Used systems are fully factory refurbished
It's standard practice for the OEM to replace or repair parts
Where needed, up-to-date controls and electronics are routinely added
The latest safety and productivity upgrades are included
Equipment and tools come with standard, 6 month parts/labour warranties
By contrast, these benefits are typically absent when you purchase directly from a wafer fab, and your exposure to potential problems is much greater.
Third Party Option
Additional analysis reveals that unauthorized third party vendors can offer the lowest prices. This is largely because their entire business is dedicated to refurbished tools and they know how to arrange the best deals.
Read More 3 Semiconductor Industry Trends to Watch
Yet we also see that the risk associated with buying from an unauthorized third-party vendor exceeds the risk-tolerance threshold in comparison to price. There are several reasons that may account for this, including:
Service teams may have knowledge of various product lines but may not have experience with the specific OEM tools you are considering for purchase
Warranties are limited, typically only 90 days, and the buyer is 100% responsible for any additional service or parts
Systems may not be compliant with all mandatory safety upgrades
Obsolescence management programs are completely absent
With unauthorized third-parties, what you see is what you get.
The Authorized Third-Party Vendor Solution
Buying from an authorized third-party partner offers the best value solution. In addition to presenting the lowest-risk alternative, the discounts offered by authorized third-party dealers can surpass those of the OEMs. A licensed third-party vendor like Ichor Systems can:
Use factory-certified parts because they have access to actual OEM parts
Replace, repair and test systems and parts according to OEM standards
Offer the latest safety and productivity upgrades
Guarantee performance
Include the software license in the price
Extend warranties beyond 90 days
The Final Conclusion
The art of choosing the best value for used semiconductor equipment basically comes down to balancing cost versus risk. Buying from a licensed, third-party OEM partner is the lowest risk option and provides fabricators with the greatest value.
[Chart] Equipment Purchasing Strategies 200mm and below. Konnen, Bill. 2013. http://www.slideshare.net/wkohnen/semiconductor-equipment-urchasing-strategies-for-200mm-and-below