Tom Rohrs, Chairman and CEO of Ichor Holdings, Ltd. rang the Nasdaq closing bell and was joined by fellow executives and other members of the management team to help draw a close to the record-setting day for the Nasdaq Composite.
It was a great day for the Nasdaq as it hit a new intraday record and posted a new closing high, ending at 5551.82, and rising 20 points (.36%).
Ichor issued its initial public offering and began trading on the exchange on December 9, 2016. Just over a month since the IPO, the company is trading at fifty percent above its offering price.
The closing bell ceremony took place at the Nasdaq MarketSite in Times Square on Tuesday.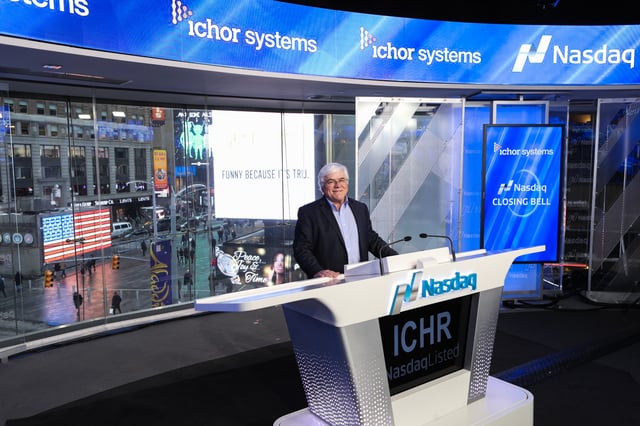 "Thanks to our recent IPO, and a very strong market for semiconductor capital equipment, we are very well positioned right now for future growth and
success," said Rohrs, as he extended gratitude to Ichor's partners, investors, and employees.
Ichor ended the day trading at $13.4, up from its offering price of $9.
These photos are © Copyright 2016, Nasdaq and available for re-publication by the news media only. Any commercial use is strictly prohibited without the prior written consent of The Nasdaq Stock Market, Inc.